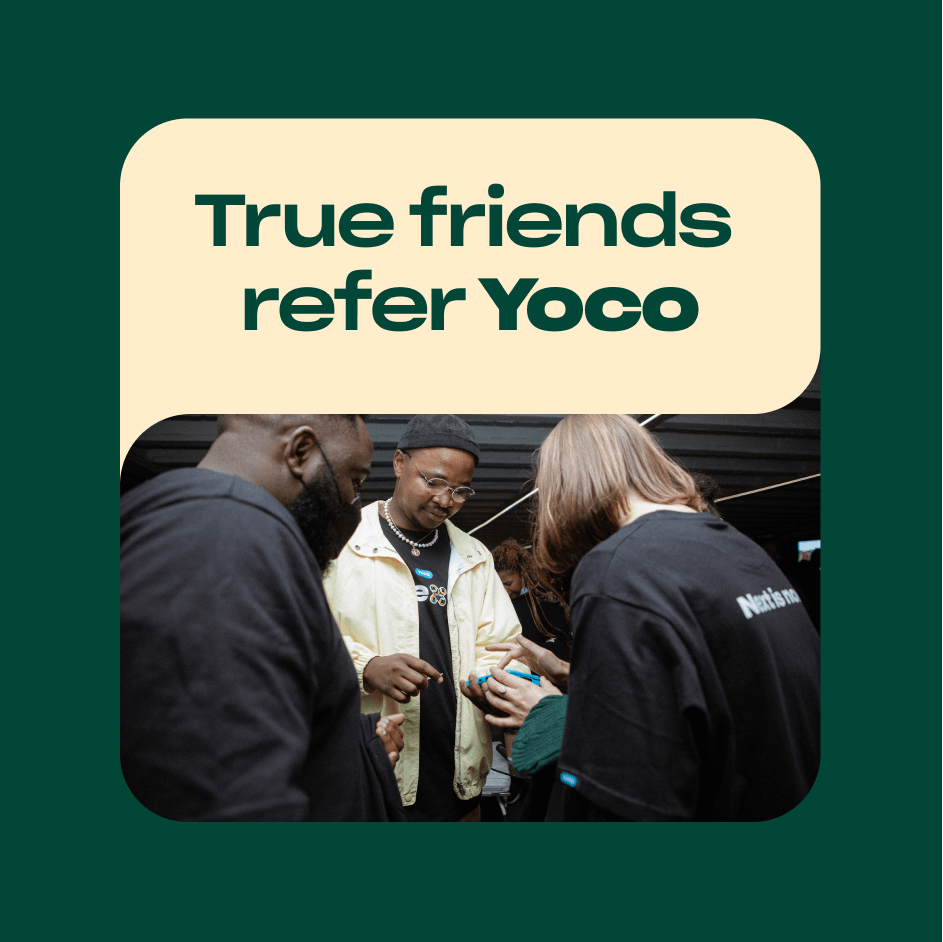 How to make R500 per day In South Africa. Making money online in South Africa can be challenging, especially if you're an entrepreneur or small business owner. However, there are opportunities to earn a bit of extra income through referral programs. One of these programs is the Yoco Referral Program, which offers a cash reward of R500 for every business you refer that buys a Yoco card machine and transacts over R1000.
In this blog post, we'll cover everything you need to know about the Yoco Referral Program, including how it works, how to find and share your referral link, when you'll receive your reward, what to do if you don't receive your reward and more.
How Does The Yoco Referral Program Work?
The Yoco Referral Program is simple and straightforward. All you need to do is invite a fellow entrepreneur to Yoco and you'll receive R500 for every business you refer that buys a card machine and transacts over R1000. The business you refer must start the signup process by clicking on your referral link, which will automatically add your referral code to their signup process and give them R100 off their card machine purchase.
Where Can I Find and Share My Referral Link?
To find your referral link, simply login to your Yoco Portal using the email address and password you signed up with. Then, click on the "Referrals" tab in the left side menu. Your referral link will be displayed here, and you can share it with your friends and network through email, social media, WhatsApp, or any other platform you prefer.
When Will I Receive My Reward?
If the business you referred buys a card machine through your referral link, pays for it in full, and transacts over R1000, you will receive your R500 reward via EFT on the next business day. This process can take 24-48 hours to reflect in your account.
What If I Don't Receive My Reward?
If you're not sure why you haven't received your reward, there are a few things you should check. First, make sure the business you referred signed up using your referral link. Second, ensure they completed their Yoco signup and are officially active merchants with the company. Finally, check if they paid for their card machine in full and transacted over R1000. If the answer to all these questions is "yes," then please email referrals@yoco.com, and the company will investigate the issue.
How Many People Can I Refer?
There is no limit to the number of people you can refer through the Yoco Referral Program. So, the more people you refer, the more money you can earn.
How To Make R500 Per Day In South Africa
The simplest straightforward way is to try by all means to convince one, just ONE entrepreneur per day to join YOCO.Thats it! You can go as far as wearing a Yoco t-shirt and go door to door and pitch Yoco plus they are a reputable company so people will trust you more and be more convinced to sign up with Yoco. You'll be amazed how many small entrepreneurs don't use a point-of-sale card-swapping device yet. Start doing a little research in your own local area.
What If There's Already a Yoco Promotion?
Even if Yoco is running a promotion, you'll still receive your R500 referral fee. The business signing up through your link will receive either up to R100 off via your link or the bigger of the two discounts (the Yoco Promotional discount or R100 off via your link).
In conclusion, the Yoco Referral Program is a great way for entrepreneurs and small business owners to make money online in South Africa. So, why not take advantage of this opportunity and earn a little extra cash by referring your friends and network to Yoco.